SAOIRE AS GAEILGE!
Learn & Play in the Kerry Gaeltacht!
If you are looking for a unique holiday, combining the wide variety of activities that this Gaeltacht community on the Ring of Kerry has to offer with a chance of improving your Irish, then you have come to the right place!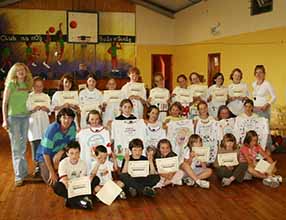 So if the words June, July and August fill you with dread as a parent and find that these months leave you with the prospect of endless days of rain, filled with demands from your children to entertain them, then you need worry no more!
Or maybe you want to take some time out – a little bit of 'me time' to discover the area and learn a bit about the language and culture of the area.  Where better than the Kingdom!
We have something to interest everyone … see what takes your fancy!
Cá bhfuilimíd lonnaithe? How to find us…
We are located on the world famous Ring of Kerry (N70) in the South West of Ireland, between the town of Cahersiveen and the village of Waterville on the R567.
Please do make us one of your destinations if you are on the Wild Atlantic Way in 2014!
If you would like any further information regarding any of the courses or workshops we offer, please don't hesitate to contact us at any time.  We'll be glad to help you in any way we can.
South Kerry is renowned for many things; it is the home of the Liberator Daniel O'Connell and the Skelligs Rock, endless beaches, astounding scenery.  But what of the other hidden gems of South Kerry that you may not be aware of?
For example did you know that the Iveragh Gaeltacht is located in the heart of South West Kerry and that people have been coming here for generations to learn the Irish language?