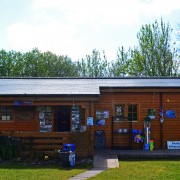 Cafe Cois Trá
is adjacent to Ballinskelligs Beach.
Barbara serves a great selection of beverages, snacks, sweets and baking.
Ballinskelligs' Country Market offers a wide selection of homebaking, speciality bread, local cheese, homegrown fruit & veg, plants for sale, handmade soaps, jewellery, crafts, photography, artwork, books and much much more.
The market runs every Sunday through the Summer from 11am to 4pm.
Café an Phoist
Ballinskelligs Post Office –
Ballinskelligs
Good food served all day   Tel John.   087 9932245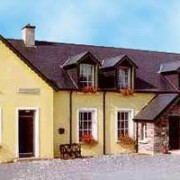 The Old School House 
We are open for breakfast from :-
Serving: Traditional Irish fried breakfast
Delicious Pancakes with Berries and Cream
Freshly  Baked Goodies every day.
Call 066 9479340 to book your table.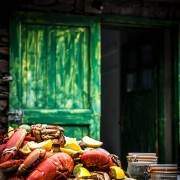 The Cill Rialaig Art Gallery and Café
Divine Unique Food now in Ballinskelligs.
Our world class chef Johan Van Der Merwe, achieves the impossible by creating a new menu for the Cill Rialaig Café that fuses organic, locally sourced fish, meat and vegetables with foraged herbs and home-made cheeses…
The opening times for the centre are 10am til 6pm and the café is open 11.30am til 4.30pm and we have evening meals from the 27th of June 2014 on Friday and Saturday.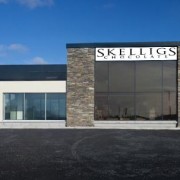 Skelligs Chocolate

We are a family run business with an open plan production where you can see the chocolates being made, ask questions and taste the freshly made treats, but we do have a fantastic new mural based on the Willy Wonka factory .
We have a coffee shop on site that serves tea, coffee and our own special Hot Chocolates, a selection of home made cakes and desserts. We do not do any lunch type food – This is strictly a treats only cafe.
Opening Hours are: April to September  – Monday – Friday – 10.00 until 17.00, Saturday & Sunday – 11.00 until 17.15
Skelligs Chocolate Co, The Glen, Ballinskelligs
From Ballinskelligs follow the road for Portmagee / St. Finian's Bay
Skelligs Chocolate is located 300 metres before St. Finian's Bay
GPS Co-ordinates are: +51° 50′ 44.11″, -10° 19′ 49.88″
If you have any queries, call us on +353 (0)66-9479119.
The Atlantic Grill (near to Cable O'Leary's)
Open 6pm, 7 days a week in tourist season, also caters for parries and groups
call 0872385610 for details / bookings
Specialising in Fresh Fish and Handmade Gourmet Burgers
examples: The Surfer's Burger (100% local beef homemade deluxe burger), Fresh local Haddock & Chips, Veggie Burger, Sausages, Sauces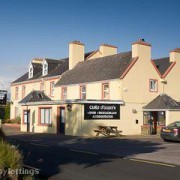 Cable O'Leary's, (on the R566 just up from Ballinskelligs Beach)
Food served from Midday – 9pm every day
The Pub is open :
Mon-Thurs 10.30am-11.30pm
Fri-Sat 10.30am-12.30am
Sun Midday-11pm
Locally sourced pub grub
examples: Bally Bay Beer Battered Fish & Chips, North Atlantic Seafood Chowder, Roast of the Day, Soups, Toasties, Curry, Carbonara and more…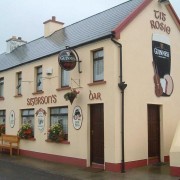 Tig Rosie is a family run bar in the heart of Dún Gégan Village, Ballinskelligs. Lively and friendly, musicians are always welcome!

Tig Rosie is a regular venue for :
Traditional Music
Set Dancing
Art exhibitions
Contributors
Ballinskelligs Tourism would like to thank all contributers of information, articles, images, video's etc to this website. Note: All images are copyright of the respective owners. Should you have any items that you wish to be included on the website , i.e Events, Workshops, Walks etc taking part in the Ballinskelligs area please contact us the contact page on this website.