Ballinskelligs beach is 1.0 Km of immaculate sandy beach lying in Ballinskelligs Bay
©Patrick Cotter
Overlooked by Mc Carthys Castle. Separated from Ballinskelligs pier by Ballinskelligs Abbey, the beach is one of the best kept secrets in South Kerry and has been a favourite with local families for many years.
Internationally Environmental Recognition Blue Flag beach
Life guards on duty during summer months
Ample parking with 50 space car park
Coffee shop adjacent beach
Free Swimming lessons run by Irish Water Safety Board for one week during summer,.Internationally recognised for it's water quality and environmental management, Ballinskelligs Beach has been awarded a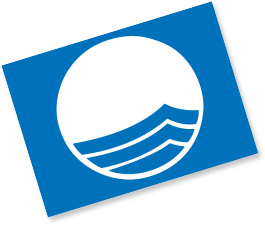 Blue Flag from the international Blue Flag Programme for over 10 years. The Blue Flag Programme is one of the most widely known, most recognised and valued ecolabels throughout Europe and beyond. It is awarded to beaches with excellent environmental management. The International Jury awarded the Blue Flag to beaches and marinas in 30 countries in the Northern Hemisphere. The Southern Hemisphere candidates will be awarded in September. To gain a Blue Flag, beaches have to meet 29 criteria covering; water quality, beach management, safety, services and facilities, environmental education and information. Further explanation of both sets of criteria is found in the Blue Flag.
Beach Guidance Notes and Blue Flag MarinaGuidance
For more information on Blue Flag Beaches see their website or the Blue flag section of An Taisce Website who manage the Blue Flag scheme in Ireland. Alternatively download their brochure here.
The beach is has a full time lifeguard from July to August between the hours of 12:00 to 19:00 Mon to Fri and L1:00 to 19:00 Sat & Sun.
The Irish Water Safety board run free swimming and life saving classes from Ballinskelligs Pier during the summer months, please refer to their website Irish Water Safety Board website for the dates of this years lessons or alternative the times and dates of Water Safety Courses for all of Kerry are advertised in the Kerry man' Newspaper during the summer months.
Life saving lessons are also available in Portmagee, Cahersiveen,,Valentia over the course of the summer.
Reenroe Beach
SAT NAV LOCATION: 51.845575, -10.231705 (+51′ 50′ 44.07″, -10o l3′ 54.14″)
Reenroe beach is another sandy beach stretching some 1.5 Km and due to it's low gradient offering shallow bathing for smaller swimmers and those who merely want to enjoy the vast expanse of golden sand. Accessible off the R567, the road is suitable for one way traffic only until you get to the beach where it gets wide enough to offer parking. While lifebuoys are in place it does not have a dedicated life guard.
St Finians Bay – The Glen
©M Herrmann
St Finian's Bay in The Glen has the smallest beach with the strongest rip tides and is very popular with surfers and watersport enthusiasts, it is a small unspoilt beach , with the Skellig Islands as its backdrop. Definately worth a visit, there is B&B and holiday home accomodation in the area and also the Skellig Chocolate factory and cafe to visit.
Also try the following beaches –
Meelagulleen Beach(Trd na Sasanach)
F.L.A.G.S
To stay safe at the beach, always remember F.L.A.G.S.
F– find the red and yellow flags and swim between them.  Always swim where there is a lifeguard on patrol, and stay inside the area marked by
red and yellow flags. Never swim where a sign says not to, or when the red flag is.
L-Iook at the safety signs.
Always read and obey the safety signs- they will help you to avoid potential dangers on the beach, and to identify the safest areas for swimming
A-ask a lifeguard for advice. If in doubt, it's always best to play it safe and ask the experts.
G-Get a friend to swim with you. Make sure there are other people around, because you never know when help might
be needed.
S-Stick your hand in the air and shout for help if you get into difficulty.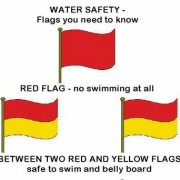 If you see someone else in difficulty:
Always tell a LIFEGUARD
Or if you can't see one, call 999/112 and then ask for the the COASTGUARD